Making the New Markets Tax Credit Work in Native Communities

Release Date: May 24, 2018

Workshop Educates Native-Led Organizations About Investing in Community with the New Markets Tax Credit Program

Industry leaders and professionals met to discuss the opportunities and challenges of investing in Native communities.

Minneapolis, Minn. - The Federal Reserve Bank of Minneapolis hosted a workshop May 24, 2018 to discuss how the New Markets Tax Credit (NMTC) Program can benefit Native communities. Participants learned various ways to participate in the NMTC Program, including as lenders and allocatees. The workshop also covered how the program works, and how to pair NMTC with other state or federal programs to stimulate local economies, especially in low-income communities.

In 2017, minority- or Native-owned or controlled entities received a total of $555 million and accounted for 13 of the 73 allocatees. According to the NMTC Program Award Book for 2017, all 73 of the 2017 allocatees indicated they would invest at least 95 percent of their QEI proceeds in Qualified Low-Income Community Investments. This is 10 percent more than the IRS-mandated minimum. In real dollars, this means at least $444 million more than what is minimally required by the NMTC Program will be invested in low-income communities.

For additional information about the New Markets Tax Credit Program's 2017 funding awards, download the award book here. https://www.cdfifund.gov/sites/cdfi/files/documents/final-2017-nmtc-award-book-v4-021218.pdf

About New Markets Tax Credit Program
Since 2000, the NMTC Program has generated investment in low-income communities across all 50 states, the District of Columbia, Puerto Rico and in Native Communities. The NMTC Program incentivizes community development and economic growth through the use of tax credits that attract private investment to distressed communities. As of the end of FY 2016, the NMTC Program has:
Generated $8 of private investment for every $1 of federal funding
Created 178 million square feet of manufacturing, office, and retail space
Financed over 5,400 businesses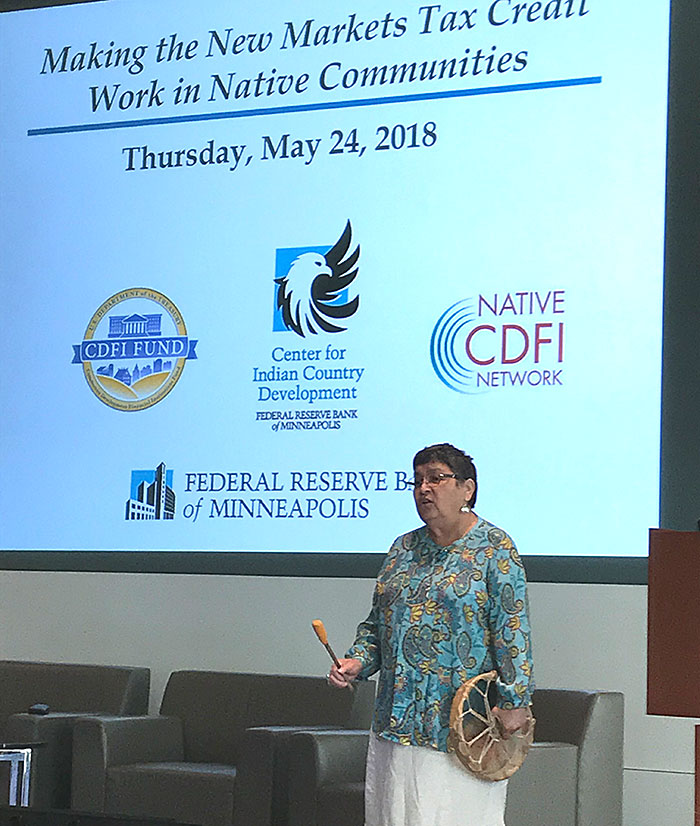 Fundraiser for Oklahoma Native Youth Exceeds Expectations

Release Date: November 29, 2017

Oklahoma Native Assets Coalition, Inc. Raises Thousands for CSA Program

Ada, OK — The campaign for 34 Children's Savings Accounts (CSAs) for native youth in Oklahoma jump-started with a donation from the U.S. Bancorp Community Development Corporation, with a recommendation by the Chickasaw Nation Community Development Endeavor, LLC. Individual donors also played a major role in surpassing expectations for the fundraiser with total of $3,419.

The Oklahoma Native Assets Coalition, Inc. (ONAC) thanked all supporters for their fundraising efforts, and continues to welcome memberships, sponsorships or endowment support. Donation information is available at http://www.oknativeassets.org/donate.

About ONAC

The Oklahoma Native Assets Coalition is a nonprofit Native asset building coalition that works with tribes and partners interested in establishing asset-building initiatives and programs in Native communities, for the purpose of creating greater opportunities for economic self-sufficiency of tribal citizens.




Chickasaw Nation to Focus on Community Revitalization

Release Date: June 23, 2015

Chickasaw Nation Media Relations Office

Developments made possible through New Markets Tax Credit Program
ADA, OKLA. — Chickasaw Nation officials announced today a $20 million New Markets Tax Credit (NMTC) allocation to the Chickasaw Nation Community Development Endeavor, LLC (CNCDE). This allocation will enable the Chickasaw Nation to extend community revitalization efforts across Indian Country with an emphasis on job creation.
The CNCDE is considering more than 20 projects ranging from healthcare infrastructure, information technology and education.
"This program offers another avenue for collaboration on projects which may very well benefit local economies for generations to come", said Chickasaw Nation Governor Bill Anoatubby. "We believe this program will have an immediate positive impact on local economies which will help create a firm financial foundation for long-term growth and economic development."
The U.S. Department of Treasury's Community Development Financial Institution (CDFI) Fund awarded 76 of 260 applicants this year through its NMTC Program.
Gov. Anoatubby praised the CNCDE advisory board members for their efforts in securing the NMTC allocation and for their continued support of the Chickasaw Nation and the CNCDE.
"The focus and follow-through of the CNCDE advisory board was instrumental in helping obtain Community Development Entity (CDE) status and in receiving this award", said Governor Anoatubby. "Their efforts will allow us to create jobs, build and improve infrastructure and enhance the quality of life of Native Americans across Indian Country."
New Markets Tax Credit allocations enable entities such as CNCDE to fill critical financing gaps between mainstream and economically disadvantaged communities. The allocations fund projects which allow communities in Indian Country to fuel local economic growth through job creation.
The CNCDE advisory board comprises the following members: Former U.S. Senate Majority Leader Tom Daschle; Chickasaw Nation Ambassador Neal McCaleb; Chickasaw Nation Secretary of Treasury Holly Easterling; Chickasaw Nation Secretary of Commerce Bill Lance; former executive at Aetna Andrew Lee; Professor emeritus and co-director of the Harvard Project on American Indian Economic Development Joe Kalt; Co-Founder of Nike's N7 Fund Sam McCracken; and President and Chief Executive Officer of Prairie Band, LLC Burton Warrington.
The CNCDE advisory board is to demonstrate accountability to residents of low-income communities in its service area. This is an important part of CNCDE's ongoing responsibility to meet accountability requirements under the NMTC Program.
About the NMTC Program
The NMTC Program was created in December 2000 and is administered through the Community Development Financial Institutions Fund (CDFI Fund) by the U.S. Department of the Treasury. The NMTC Program serves as a catalyst to encourage investment of private equity capital into low-income communities and allows investors, such as U.S. Bank, to receive a credit against federal income taxes for making equity investments in designated CDEs. The credit provided to the investor totals 39 percent of the cost of the investment and is claimed over a seven-year credit allowance period. The CDE receives a qualified equity investment and deploys a qualified low income community investment under favorable terms, such as a below-market interest rate and a longer-than-standard period of interest-only payments, to the qualified active low-income community business.

About Chickasaw Nation
With more than 63,000 citizens, the Chickasaw Nation is the 12th largest federally recognized tribe in the United States. According to a 2015 economic impact study, the Chickasaw Nation had an economic impact of more than $3.18 billion in Oklahoma. The Chickasaw Nation is one of Oklahoma's largest employers, with more than 13,000 employees. A democratic republic with executive, legislative and judicial departments, the tribe's jurisdictional territory includes all or part of 13 counties in south-central Oklahoma.